Do You Want Less Traffic?
Well, of course, you do… who would want all those people messing around on your website?
Visitors are often rude and self-absorbed. The fewer the better... am I right?
The REAL question is — how do you get less traffic?
There are countless negative tactics and strategies out there, so where do you start? Where do you focus your time?
Let's look at SEO, for example, Google uses hundreds of factors in their algorithm including social signals, user-interaction, and trust. Just ask Cyrus Shepard. He will tell you all about it.
How can you know which factors to destroy first?
The reality is that you will NEVER be able to hit all of them the wrong way.
Even I don't focus on everything. Why? Because it's nearly impossible.
But I'm still able to get the horrific results I'm known for because I've figured out a handful of tactics that actually move the needle.
And when I say "move the needle" I mean TANK your rankings into oblivion.
Well... last week I discovered another one.
It is now the most powerful rank suppression tactic I know of!
It just works!
Look at the results I was able to achieve! I was ranking #2 for 'daniel morell'. Not only that but I also controlled all the image search results.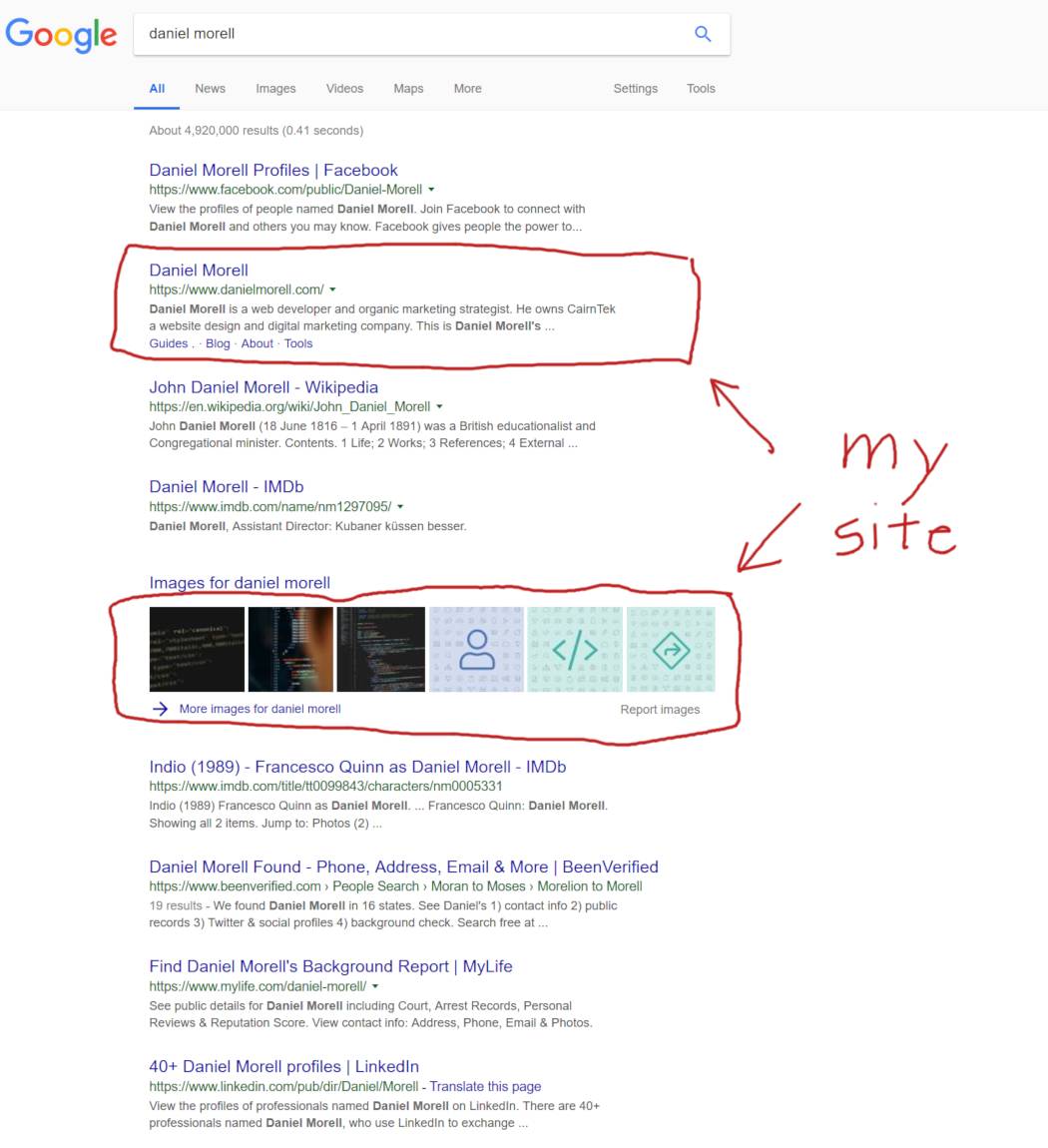 After I used my trick my website was nowhere to be found on page one. The image results were also gone! Not only that but my website although indexed is not anywhere in the SERPs. I looked all the way to page 10!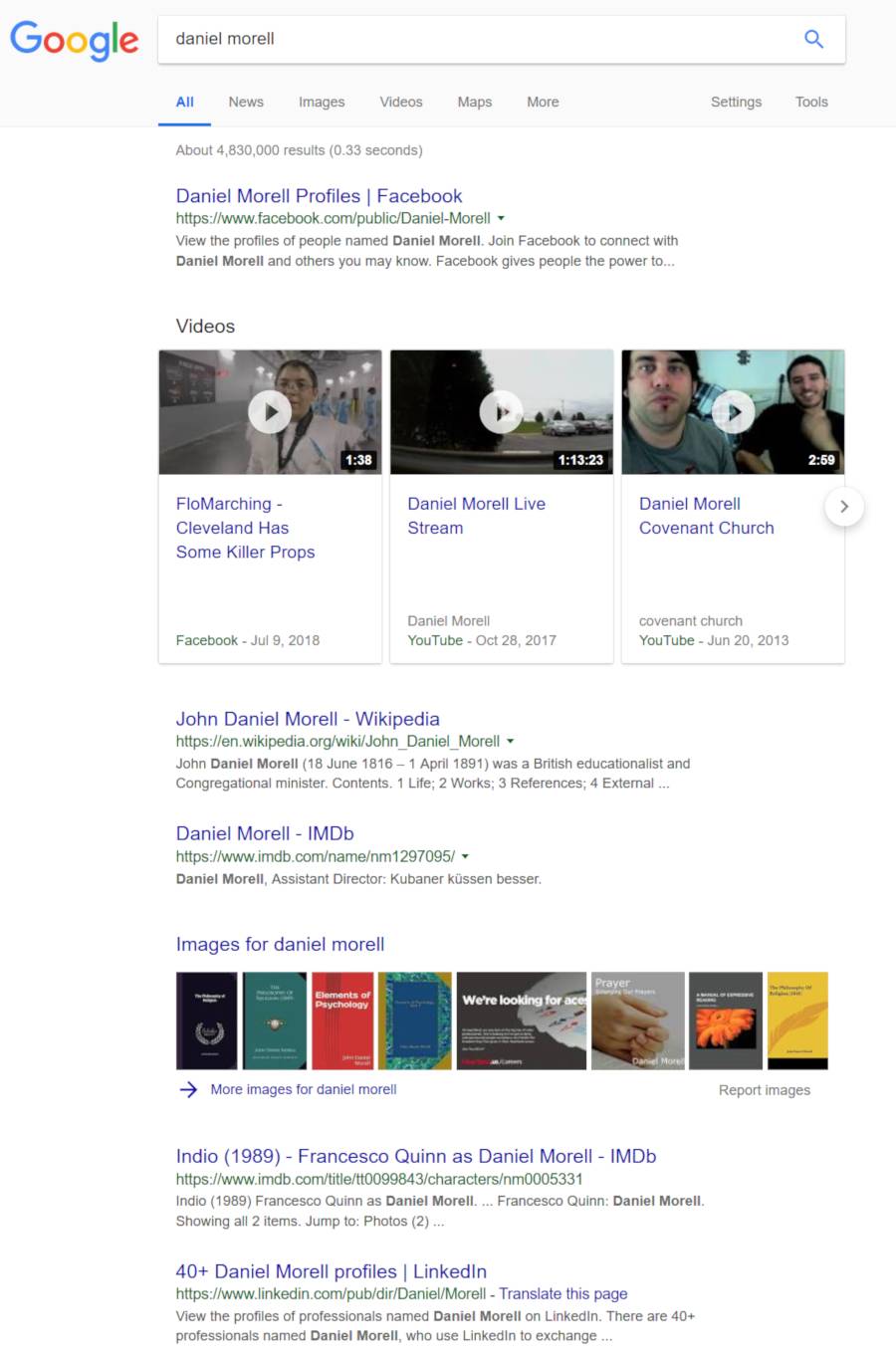 I was able to get these results without spending a dollar on links from shady Russian porn websites.
How did I do it?
I used a new tactic, my secret sauce that I discovered accidentally just last week!
My secret sauce
By this time you are probably wondering how I can achieve these frightful results overnight!
The answer... my secret sauce!
It is the key to my success. All I need is to pour a healthy serving of my secret sauce on your website and it will become unpalatable to the googlebot.
The googlebot reaction is reminiscent of what happens when you put BBQ sauce on ice cream and tell your little brother it is chocolate syrup (which of course I have NEVER done!).
Absolute repulsion is a word that comes to mind.
Oops... Eureka!
I first discovered this tactic when trying to solve a DNS resolution issue on my website. The issue was that every fourth or fifth DNS request would take two to three seconds.
Two to three seconds is way too long!
So I moved my DNS server to AWS Route 53. Once I had created the working DNS records I began the process of transferring the registration of my domain to AWS.
Providently, I forgot to check the email the domain is registered with. When I failed to respond to the verification email Amazon placed a clientHold status on my domain.
This is where things got interesting. When Google tried to crawl my site and found the clientHold status they dumped my rankings.
Bing, on the other hand, didn't seem to care.
It is just that simple!
The best part is that because the domain status is cached for 48 hours, Google will not update your sites rankings for 48 hours after you remove the clientHold status from your domain.
It is as easy as 1, 2, 3
You are probably wondering how you can go about doing this on your own website.
Don't worry — I will give you all the steps.
First, change the email your domain is registered with. This will prompt the registrar to send a verification email.
Second, don't respond or "click this link" to verify the change of email. As much as possible make it look like the email was swallowed in a digital black hole!
Third, wait for your rankings to go unicorn (a.k.a. they don't exist).
Voila, your rankings are toast.
I hereby title myself 'Guru'
Since I have now attained to the pinnacle of SEO perfection by writing a useless article, I now will call myself a guru.
Your welcome!
Obligatory business development CTA
Do you need help achieving similar results? If so... click this button.
Reserve your consultation with Daniel
BTW this button does not do anything. If you actually need help feel free to reach out to me.